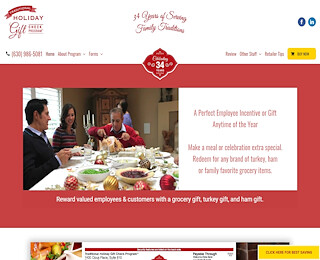 Employee thank you gifts fall into the category of gifts that keep giving. If you're considering thank you gifts for employees this year, buy gift checks from Holiday Gift Check program. We have the perfect gift to say thank you to hard-working employees who show up day in and day out to make your business a success. While weighing options for this year's Christmas or holiday giving, think about the top 5 reasons to use our employee thank you gifts:
1. Companies that offer holiday bonuses have a lower turnover. If you value the loyalty of your workers, you'll want to make them feel appreciated during the Thanksgiving and Christmas seasons. What better way to say thank you than by giving our ham and turkey gift checks? A gift of food is always well-received; you can put a traditional Thanksgiving or Christmas dinner on every workers' table this year with vouchers from Holiday Gift Check Program.
2. Our certificates are redeemable at virtually any grocery store in the US, so your employees won't have to worry about using them at a particular store. Redeem at any Honey baked Ham Café or any grocery in any town or city in the country. If your employees like to visit family during the holidays, they can use checks out-of-town without any hassle.
3. Employee appreciation gifts make your workers feel special. We can customize every check you give this year with individual employee names for only .10 per check- and we'll put your company's name on gift cards, as well, at no additional cost. It's easy to use our program; in fact, with just a few clicks, your employee thank you gifts will be on their way.
4. With Holiday Gift Check Program's easy ordering, you can purchase more than you need and we'll refund any extras you don't use this year. We're the only company that provides this free service, so you don't need to worry about not having enough gift checks on hand for workers and clients. Overbuy and we can offer a full reimbursement for left-over checks after the holidays.
5. If you need an affordable gift to say thank you, we can customize the face value of your checks to reflect your budget. Recognition gifts are available from our company in amounts from $5 - $50. If your corporate gifts typically fall flat with employees, we can make it cost-effective to boost morale at your workplace and give you hero status among workers. See how easy it is to use our program when you check out information about our program online.
Ham and turkey certificates are the ideal employee thank you gifts. We've been making it possible for businesses and corporations to put traditional holiday meals on the tables of their employees for more than 3 decades. See why ours is the best program for your company when you contact Holiday Gift Check Program by phone at (630) 986-5081 or through our convenient website form. We'll be happy to walk you through the ordering process.
Employee Thank You Gifts
Holiday Gift Check Program
+1 630-986-5081
1400 Opus Place
Downers Grove
IL
60515
View Larger Map